The "Vampire Facial" utilizes your own platelets as a cosmetic skincare treatment. A vampire facial is a procedure that aims to use a patient's blood to facilitate healing and repair. During a vampire facial, blood is extracted and then undergoes a centrifuge process to separate the plasma, which is injected back by puncturing the skin using a microneedle.
What are platelets?
Platelets are a component of the blood that is rich in growth factors. The growth factors include platelet-derived growth factor (PDGF), transforming growth factor (TGF)-β, vascular endothelial growth factor (VEGF), epidermal growth factor (EGF), and insulin growth factor (IGF). When re-injected in high concentrations in the dermis during a vampire facial, these growth factors can stimulate the production of collagen, elastin, and hyaluronic acid, which when in the right balance, lead to healthy and youthful appearing skin.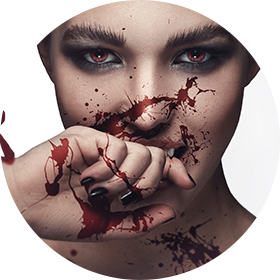 How does it work?
Blood is collected from a small puncture in a vein, usually in the arm. The blood sample is then treated in a process called centrifugation. This separates the components of blood into three layers, a layer rich in red blood cells, normal plasma, and platelet-rich plasma (PRP). The PRP segment is then extracted. This serum is then infused back into the face using the Eclipse MicroPen® microneedling device that penetrates the skin driving the activated platelets and growth factors into the dermal layer. The growth factors then stimulate endogenous collagen production by promoting fibroblast growth and activity. It can also increase oxygen and nutrient delivery by increasing blood vessel development (angiogenesis).
What kind of results should I expect?
This question is best answered with an in-person consultation as all skin types and skin conditions are different. However, there is evidence to support platelet rich plasma (PRP) treatment being beneficial for reducing acne scars, stretch marks, and reduces the reappearance of fine lines and wrinkles.
What is the downtime after vampire facials?
After receiving your procedure, you can expect 1-3 days of redness. If you have any other complications with your vampire facial, contact us immediately.
SAY GOODBYE TO INSECURITIES
Hemingway Medical Spa works with you to make your dreams come true. Whether for beauty, recovery, self- identity, or just to treat yourself, we offer a variety of skin, body, and cosmetic treatments to reveal your inner uniqueness.
HOW LONG DO THE RESULTS LAST?
In some ways, the vampire facial keeps working for a long time as the increased blood flow brought onto the area continues for months, if not years. Additionally, vampire facials jumpstart the body's production of collagen and elastin which are processed that self-perpetuate.
However, the duration of the results depends on a lot of factors, the most important being the number of procedures you undergo.
WHAT ARE MY PAYMENT OPTIONS?
We are here to serve you in any way we can, and that includes financially. Please contact us at 587 521 0667 to schedule a consultation and discuss what treatment plan is best for you, quotes, payment plans, and any other concerns you may have.
Edmonton Vampire Facial FAQ