Find Your Confidence with Edmonton Microdermabrasion Treatment
There are many different types of microdermabrasion technologies on the market. At Hemingway Medical Spa in Edmonton and Sherwood Park, we use the Dermafrac microdermabrasion platform for both microdermabrasion and microneedling (also commonly referred to as microchanneling). Along with microdermabrasion, Hemingway Medical Spa offers a variety of skin, body and cosmetic treatments for beauty, recovery, self-identity or just to treat yourself. At our luxury boutique medical spa in Edmonton and Sherwood Park, our highly-trained team of microdermabrasion professionals are ready to assist you with the most advanced microdermabrasion techniques. 
At Hemingway Medical Spa in Edmonton, our mission is to authenticate a healthy self-image by using the latest cosmetic techniques, technology and artistry so that his patients may reach their most confident selves. Under the direction of Dr. Olesen, our Edmonton team will provide a comfortable, stress-free and respectful atmosphere where all patients will feel at home. If you are interested in microdermabrasion or microneedling services, contact Hemingway Medical Spa in Edmonton or Sherwood Park today for a consultation on microdermabrasion.
MICRODERMABRASION TREATMENT AT HEMINGWAY MEDICAL SPA
Microdermabrasion mechanically exfoliates dead skin cells with a combination of vacuum suction and an abrasive aluminum hydroxide surface.
Well tolerated
Accelerates new skin cell growth resulting in improvements in skin texture[1]
In the literature:
A "microdermabrasion" study by Karimipour et al. investigated the molecular mechanism behind microdermabrasion. A total of 49 subjects underwent one microdermabrasion treatment. After the microdermabrasion treatment, the authors found changes to the level of proteins involved in wound healing and downstream collagen remodelling within the dermal layer. In addition, the authors did not detect epidermal barrier damage, which would have led to water loss and subsequently dehydration. [2] 
[1] Karimipour DJ, Karimipour G, Orringer JS. Microdermabrasion: an evidence-based review. Plast Reconstr Surg 2010 Jan;125(1):372-377.
[2] Karimipour DJ, Kang S, Johnson TM, Orringer JS, Hamilton T, Hammerberg C, et al. Microdermabrasion: a molecular analysis following a single treatment. J Am Acad Dermatol 2005 Feb;52(2):215-223.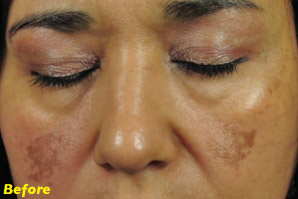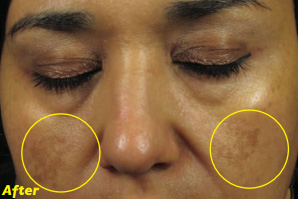 Microneedling  is a process that uses tiny, medical-grade needles to create microchannels through the surface of the skin to penetrate to the depth of the dermal layer.  This intentional 'wounding' stimulates the skin's healing response, which leads to the production of collagen and elastin[1]. Additionally, a peptide serum is concurrently infused through these newly created micro-pores, which further activates the cellular components of the skin, resulting in plump and firm skin[2]. This procedure is commonly used to treat fine lines, uneven pigment and texture, dry skin, acne scars, and laxity.[3]
Surgical grade microneedles create channels that target the dermis (deeper layer of the skin) to infuse the serum
Stimulates a natural response to increase fibroblast activity, which leads to the production of collagen and elastin, resulting in plump, hydrated skin
Different serums are available to tailor to different skin types and indications (Rejuvenate, Growth Factor Plus, Lightening, Acne, Hydrating)
Minimize fine lines, stretchmarks, hyperpigmentation, sun damage, acne scars, pore reduction, acne, and uneven skin tone(4-6)[4]
El-Domyati M et al.  investigated the result of six microneedling treatments in ten patients (Fitzpatrick skin type III and IV). All participating patients had improvements in skin texture and wrinkles after the final treatment.3 Although this is a very small study, our experiential outcomes support these findings. Downtime is minimal, clients can expect to have redness and minor swelling following procedures, usually lasting 30 minutes to a few hours..  To learn more about these procedures, book a consultation with Dr. Olesen!
[1] McCrudden MT, McAlister E, Courtenay AJ, Gonzalez-Vazquez P, Singh TR, Donnelly RF. Microneedle applications in improving skin appearance. Exp Dermatol 2015 Aug;24(8):561-566.
[2] El-Domyati M, Barakat M, Awad S, Medhat W, El-Fakahany H, Farag H. Multiple microneedling sessions for minimally invasive facial rejuvenation: an objective assessment. Int J Dermatol 2015 Dec;54(12):1361-1369.
[3] Iriarte C, Awosika O, Rengifo-Pardo M, Ehrlich A. Review of applications of microneedling in dermatology. Clin Cosmet Investig Dermatol 2017 Aug 8;10:289-298.
[4]  Hernandez-Perez E, Ibiett EV. Gross and microscopic findings in patients undergoing microdermabrasion for facial rejuvenation. Dermatol Surg 2001 Jul;27(7):637-640.