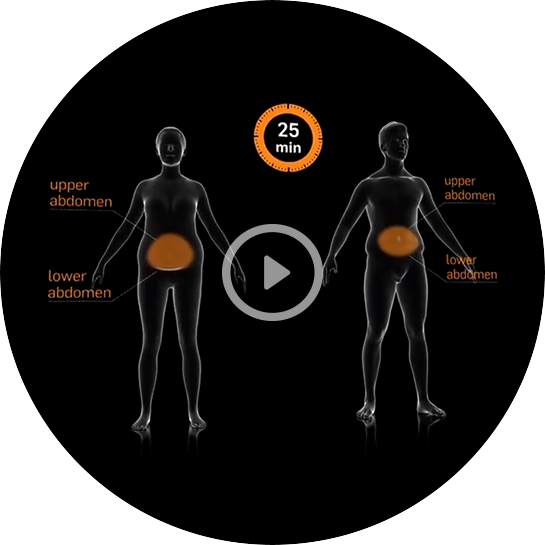 Light-Based Contouring Miraculous Transformations in Just 25 minutes!
Even with diet and exercise, most people have stubborn pockets of fat that seem impossible to lose. SculpSure uses evidence-based body contouring technology to target and destroy fat cells without affecting the skin's surface, and with no surgery or downtime. SculpSure is a non-surgical 25-minute procedure that uses laser-based technology to permanently destroy up to 24% of treated fat in problem areas such as the abdomen and love handles.
Over time, these damaged fat cells are naturally absorbed and removed from the body, with results seen as quickly as six weeks, and optimal results typically are seen at 12 weeks after the second SculpSure treatment.
Hemingway Medical Spa is here to serve you. No matter what your story, age, or gender, our objective is to customize a treatment plan that compliments your best self. We provide a comfortable, stress-free and respectful atmosphere where all patients feel at home while using state-of-the-art equipment to treat various skin and body concerns, including stubborn fat, sun damage, wrinkles, unwanted hair, unwanted hair loss, sagging skin, and more.
Sculpsure Services to Eliminate Stubborn Fat
Many people wonder if the fat returns after a sculpsure treatment. The short answer is no, the fat cells do not regenerate. Once they are absorbed into the body, they do not come back. However, it is still possible to gain weight after sculpSure treatments as the treatment doesn't affect your calorie intake or the body's ability to gain weight. This would be the only way to regain previously removed fat.
Sculpsure treatments can be performed on any section of the body where you just want that little bit of fat removed, most specifically the back, thighs, double chin area, belly, and love handles.
We are here to serve you in any way we can, and that includes financially. Please contact us at (587) 521-0667 to schedule a consultation to discuss what treatment, quote, and payment plan is best for you as well as any other concerns you may have.
Preparing For Treatment
Since sculpsure is a non-invasive and quick fat elimination procedure, patients do not have to undergo extensive preparation for their appointment. In fact, preparation is minimal as the procedure only takes around 30 minutes to complete.
We recommend ensuring that you are well hydrated before and after the procedure to aid in your body's ability to rid itself of unwanted fat.
How It Works
During the procedure, 4-8 applicators will be placed on your targeted area of unwanted fat. These applicators will then emit light-based heat purposed specifically to burn fat cells underneath the skin. The applicators are also outfitted with cooling technology to ensure that you have a comfortable experience throughout the sculpsure treatment.
Once the fat cells are melted away, they will leave your body naturally through your lymphatic system and will not regenerate. This natural process varies from individual to individual and takes anywhere from several weeks to months for optimal results to show.
Non-Invasive Body Contouring Achieve the shape you want